What does HOGSS stand for?
Home Or Garden Sack Service
What are the applications for HOGSS?
HOGSS are ideal for any waste removal project such as home, garden or construction waste.
What items are restricted from disposal in HOGSS?
All waste must meet Pennsylvania landfill requirements. Please ask a
HOGSS representative if you are not sure if a specific item is allowed.
What are the benefits of HOGSS verse a dumpster?
-HOGSS have no expensive rental fees.
-HOGSS keep heavy trucks on the street eliminating potential damage that is caused by a heavy truck.
-HOGSS are light weight and don't have metal rollers or skids, like dumpsters, that cause damage to driveways and yards.
-The HOGSS pick-up system is the most maneuverable waste removal system. It eliminates extra time and expense of carrying your waste to the location of the dumpster which in many cases is the street.
Where do you get HOGSS?
Purchase HOGSS at your local participating retailer or by calling 1-877-PU-HOGSS and we will mail you a HOG Sack with a small shipping and handling fee.
How are HOGSS packaged when I purchase it at a store or receive it in the mail?
A HOG Sack comes packaged in a plastic bag approximately the size of a large
pizza box. It includes all the information you will need for loading and for pick-up.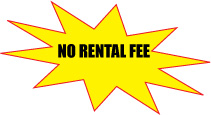 What is the cost of a HOG Sack?
The pricing is two parts:
1. The purchase of the HOGSS Sack
-2 cubic yard at $30.00
2. The pick-up of the HOGSS Sack:
-Pricing of pick-up depends on the service area, material, size and # of HOGSS to be picked up.
-Discounts are available for multiple Sack pick-ups, green waste and clean fill. For pricing call
1-877-PU-HOGSS and a representative will quote
you a price.
What is the dimension of a HOG Sack?
2 cubic yard is 48"x 48" x 40" high
Does HOGSS have a weight limit?
Yes, even though the Sacks have been tested to hold a lot more weight, the
following allotment is allowed:
3000 pound for 2 yard Sack
There is a maximum weight limit of 4000 pounds for the Sack. If you have any questions or need help determining the weight of the material you are placing the in the Sack please call and a HOGSS representative will be able to assist you.
What happens if my HOG Sack is over the weight limit?
If the Sack is over the allotted weight limit there will be additional charges. If the Sack is more than the maximum weight limit of 4000 pounds the Sack may not be picked up. No refund will be given and there will be additional charges.
Where can I put the HOG Sack?
A HOG Sack can be placed anywhere on your property that the HOGSS Mobile
can safely drive. Just remember to leave 2 feet of clear space on all sides and 12 feet
high of overhead clearance.
What is the HOGSS Mobile?
The HOGSS Mobile is the most maneuverable waste removal system. It is an all-terrain fork lift that is 8'6" wide by 10' long by 10' tall with rear wheel steering equipped with a patent pending attachment designed specifically to pick up Sacks.
Can I place a HOG Sack inside a fenced in yard?
Yes, as long as there is an opening large enough to drive the HOGSS Mobile inside the gate. HOG Mobile is 8'6" wide.
Can I place a HOG Sack in my garage?
Yes, but it must be placed directly inside your garage door while allowing 2 feet of clearance on all sides.
How long can I keep a HOG Sack?
There is never any rental with HOGSS. Store it until you need it, but we
recommend once you start using the sack outside you should try to finish within two
How do I schedule a HOG Sack pick-up?
Simply call 1-877-PU-HOGSS schedule pick-up. Have the following information ready when you call:
-Name
-Address including zip code
-Daytime phone #
-Location of sack on property
-Number of sacks
-Material in the sack
-Credit card number (Visa or MasterCard)
How long does it take to get a HOG Sack picked up?
Within a few days your sack will be picked up. If you are in a rush please indicate that when scheduling pick-up and we will do our best to get there ASAP.
Do I have to be there for a HOG Sack pick-up?
No one needs to be present for pick-up, unless the sack is inside your garage or inside a locked area.