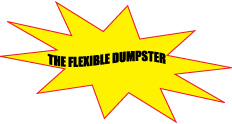 .
for loading HOGSS...
Start by folding all four sides down for easy loading.
Lay all material as flat as possible.
Use things like plaster or other fine material to fill voids to maximize space.
Face nails and other sharp objects inward so not to puncture the sack.
Close lid when finished loading to contain waste and to keep job site clean.